Quebec - Eastern Township / ESTRIE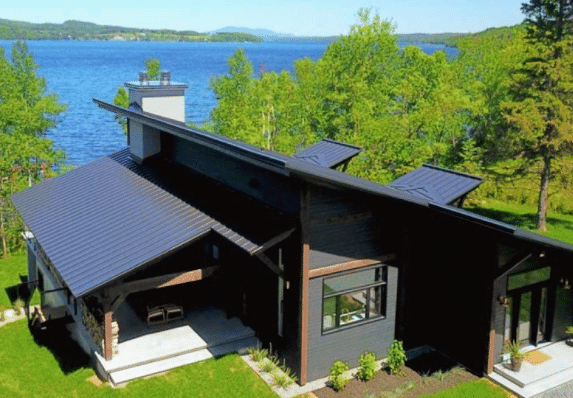 Rate per night in High Season: $715,
Rate per night in Low Season: $635,
minimum two nights *
*Price before taxes, a discount applies depending on the number of nights. Price for 8 adults. The following adults are charged at the rate of 50$ / person / day, plus taxes.
Chalet Availability Calendar
Description of the Chalet
Fingers holding sweet wine
Sun setting on the bay
Time stops
Luxurious villa, it is a true gem that you discover on the edge of Mégantic lake. With its elegant design and great location, it overflows with promise : starlit nights, spectacular sunsets, evenings that linger on by the flames of an indoor or outdoor fireplace, fun on the water, memorable moments between friends or family regardless of the weather.
A magnificent private dock stands on the lake and gives access to a boat lift and watercraft lift. Take advantage of it to observe the sky, you are at the heart of the first international dark-sky reserve!
Can host
Single bed(s)
Queen Bed(s)
King Bed(s)
Dividing slit(s)
Bathrooms
Smoking
Accepted animals
11
1
3
1
1 (sheets on request)
3
no
no
The Villa Morrisson is a new construction based on the principles of luxury and good taste.
You will find on the ground floor:
A large living room with a bay window overlooking the lake.
A large dining room and a luxury kitchen.
Two large bedrooms, each with its own bathroom.
The master bedroom is equipped with an overflowing bath with therapeutic lights.
On the garden level, you can take full advantage of the living area equipped with:
A pool table.
A mini-bar area.
A second living room.
Fridge
Propane Stove
Crockery and Cutlery
Fondue Dishes (2)
Freezer
Toaster
Washer, Dryer
Therapeutic Bath
Dishwasher
Microwave
Bedding
Wood Fireplace
10 Seat Patio Set
Children's Tableware
Boat Lift (Max 500lbs) (Excluding Pontoon)
Paddle Board
1 5 Seater Pedal Boat
Watercraft Lift
Board Games
Spa
Barbecue
Baby Bed
Outdoor Fireplace
Internet Access
12 Cup Coffee Maker
Cable and Smart TV
Children's Utensils
TV
High Chair
Quay closed for the winter from September 29, 2020
Take advantage of the attractions of the region, because Villa Morrisson offers a multitude of activities nearby:
5 minutes from Camping Adventure (water slides and slides in winter).
10 minutes from the city of Lac-Mégantic.
20 minutes from the Baie-des-Sables tourist resort (public beach, boat rental, tubing and ice fishing).
25 minutes from the Montagne du Morne (over 20 km of hiking trails).
25 minutes from the ZEC of Mont-Gosford.
45 minutes from Sugarloaf Ski Resort (75 km);.
40 minutes from the National Park of Mont-Mégantic.
In winter, you can easily practice:
Snowshoeing, cross-country skiing, skating, and snowmobiling on the lake directly from the chalet.
Dogsled or horse-drawn carriage rides.
Observation of the sky and the stars at the Astrolab du Mont-Mégantic.
* Note that there are cameras on the outdoor site to ensure home security in the absence of owners or tenants.
boat lift (max 500lbs) (exlcuding pontoon)
Quay closed for the winter from September 29, 2020
board games
Free facilities
outdoor fireplace
Free facilities
internet access
free facilities
12 cup coffee maker
free facilities
Cable and smart tv
Free facilities
NEARBY ACTIVITiES AND ATTRACTIONS
book now and get an offer for all packages