Parfum d'Étoile
Lac-Mégantic, Estrie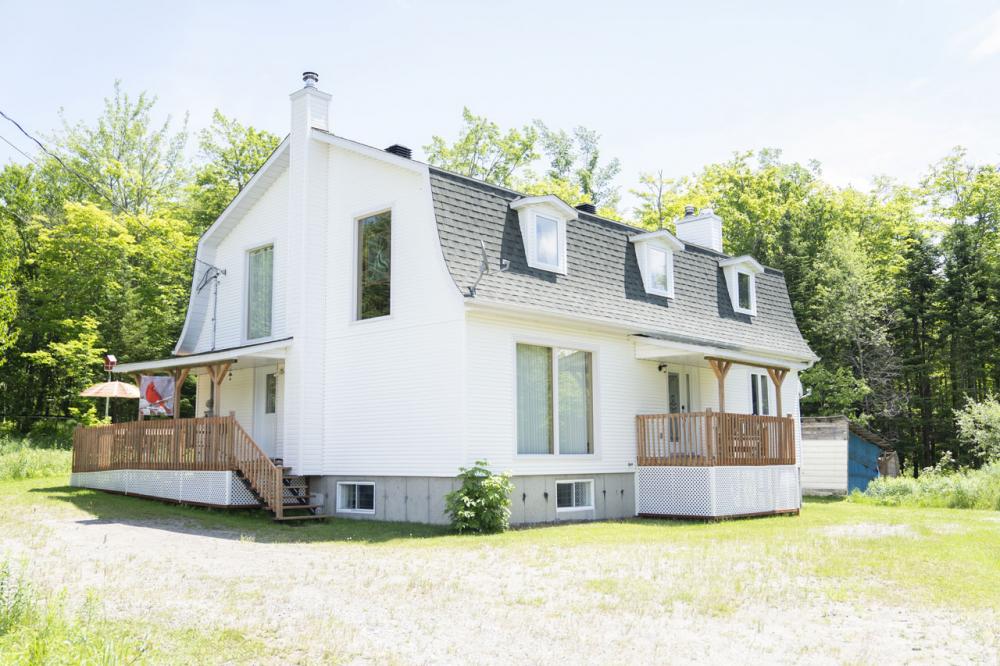 Tarifs
High seaon rate : 425$* (minimum 2 nights)
Low season rate : 315$*
* Rate before taxes, may vary according to length of stay and amount of people.
Parfum d'Étoile
Black sky and milky way
I forget where I'm from
Like a truce
Take a front-row seat to soak in the Eastern Townships' sky in all its glory. At the heart of a sugar shack, le Parfum d'Étoile invites you to unwind in nature for an invigorating vacation.
Stars at night, nature during the day : it will welcome you comfortably after your various hikes with a wood stove to warm you up, a full kitchen to cook flavourful meals, an outdoor fireplace, a spa from which to observe the stars, and convivial areas for the family to relax.
Located close to the trails, it offers a large shed to store up to 5 mountain bikes.
An ideal cottage for all seasons!
Interior
The cottage is on two floors and has four closed bedrooms (Upstairs: one bedroom with a double bed and a single bed and the other with a queen bed. Ground floor: two rooms with a queen bed).
It has two full bathrooms, one with a bath.
A TV with DVD collection upstairs.
Board games for fun!
In addition, a telescope is at your disposal to admire the stars from the inside.
Located close to the slopes, the cottage offers you a large storage room to store up to 5 mountain bikes.
Caractéristiques
Smoking

No

Connexion WIFI

Yes

Breakfast included

No

Check-in Hour

10:00

Departure

17:00

Inc person

9

Max person

9

Bedrooms

4

Bathrooms

2

Small bed

1

Queen bed

4
Inclusions
Spa
Exterior fireplaec
Extorior table
Fire place
Playground
Washer / Dryer
Dishwasher
BBq
Wood stove
Office
Salon
Réveil
CD/DVD Player
Flat Screen TV
TV
Kitchen
Refrigerator
Microwave
Coffee maker
Washroom
Shower
Bath
Balcon
Patio Table & Chairs