Le Panoramique
Piopolis, Estrie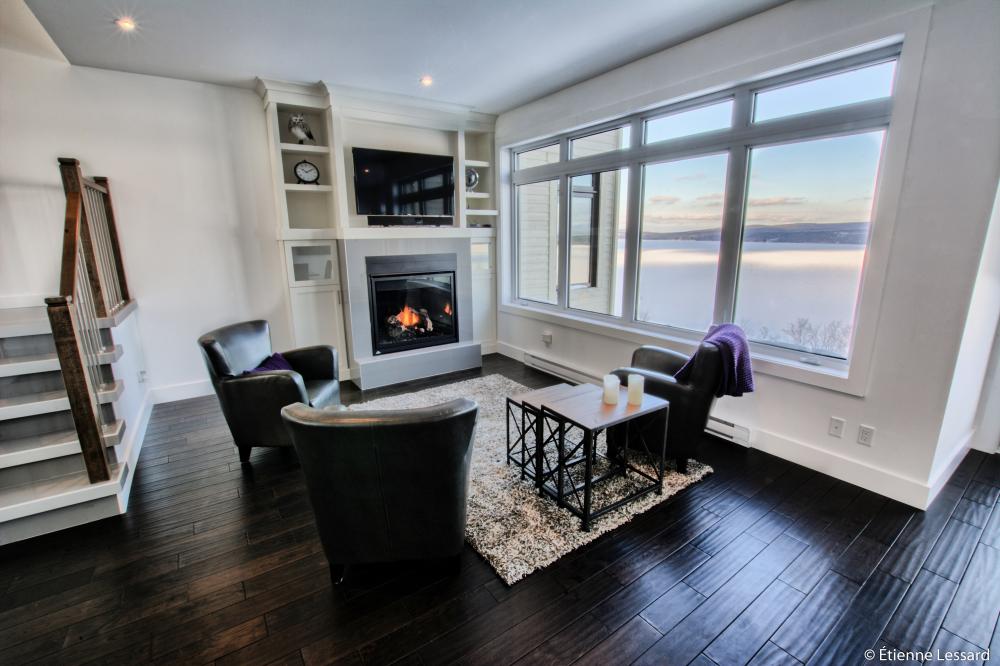 Tarifs
High seaon rate : 419$* (minimum 2 nights)
Low season rate : 355$*
* Rate before taxes, may vary according to length of stay and amount of people.
Le Panoramique
Endless sky
Bottomless lake
The horizon breathes me in
I borrow from the bird
It stands on the heights of a charming village, overlooking a bay that beckons flight. To welcome you, a high-quality new construction, tasteful interior decor : the grounds inspire a worry-free getaway.
To entertain you : billiards, terrace, and a few minutes away on foot from all the commodities of the picturesque village of Piopolis : restaurants, boutiques, general store, without mentioning the unique view of the Appalachian mountains and Mégantic lake. 
Interior
Ideal for a relaxing family or couple's vacation.
Le Panoramique is built over three floors, with three bathrooms and three bedrooms, all equipped with a queen bed.
You will also have access to a sofa bed.
For snowmobilers and cyclists, note that you have access to a heated and locked garage.
The cottage is equipped with a quality pool table.
Only 20 minutes from National Park of Mont-Mégantic and Mont Gosford.
40 minutes from Sugarloaf ski resorts (USA).
5 minutes walk from the lake for swimming in summer and all the available sports in winter (cross-country skiing, snowshoeing, skating).
10 minutes by car from Tree-to-Tree adventures (Baie-des-sables tourist resort)
Caractéristiques
Smoking

No

Connexion WIFI

Yes

Breakfast included

No

Check-in Hour

17:00

Departure

10:00

Inc person

8

Max person

8

Adult max

8

Max adult

8

Bedrooms

3

Bathrooms

3

Queen bed

3

Sofa bed

1
Inclusions
Microwave
Refrigerator
Kitchen
TV
TV
Extorior table
Fire place
Fire pit
Salon
Patio Table & Chairs
Réveil
Balcon
CD/DVD Player
Hair dryer
Flat Screen TV
Bath
Shower
Washroom
Ironing machine
Coffee maker
nearby activites and attractions
GET 10% OFF WHEN YOU BOOK FOR 3 NIGHTS