Chic-Shack des Trois-Milles
Sainte-Cécile-de-Whitton, Estrie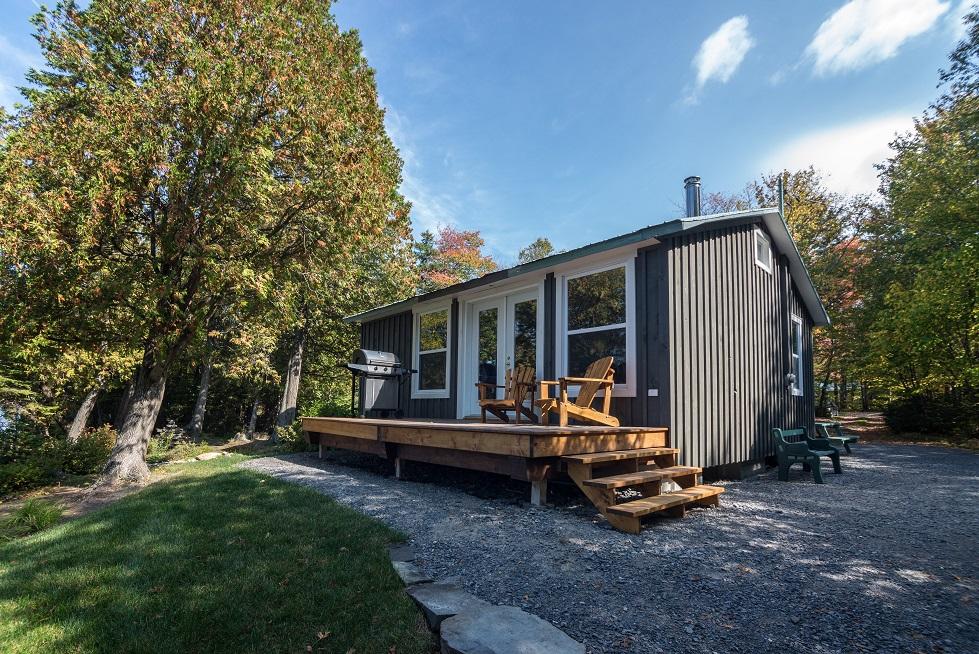 Tarifs
High seaon rate : 325$* (minimum 2 nights)
Low season rate : 310$*
* Rate before taxes, may vary according to length of stay and amount of people.
Chic-Shack des Trois-Milles
The harmonious surroundings
Perfect simplicity
Soothe the senses
Begin the day with a morning stroll on the lake with one of the paddle boards, or simply by sipping coffee on an adirondack chair while listening to the loons singing!
A lovely private beach ideal to wade around with the children, a safe and convivial designated campfire area, the view of the mountain and sunsets in the yard; here are the ingredients to enjoy, between family or lovers, an unforgettable vacation!
Interior
Outside you will find paddle boards and a pedalboat, along with a swing set for the kids
Enjoy this completely renovated cottage offering:
Two closed bedrooms with a queen bed each, and fill the need for sleeping space with the sofa bed in the living room.
You have access to a wood stove for your comfort.
The bathroom is equipped with a shower, toilet and sink.
Outside you will find paddle boards and a pedalboat, along with a swing set for the kids
Caractéristiques
Smoking

No

Connexion WIFI

Yes

Breakfast included

No

Check-in Hour

17:00

Departure

10:00

Inc person

5

Max person

5

Bedrooms

2

Bathrooms

1

Queen bed

2

Sofa bed

1
Inclusions
Hair dryer
Shower
Washroom
Coffee maker
Microwave
Refrigerator
Kitchen
Salon
Pedalo
Exterior fireplaec
Extorior table
Swing
Patio Table & Chairs
Balcon
outdoor furniture
6 x Adirondack chairs, picnic table
nearby activities and attractions
GET 10% OFF WHEN YOU BOOK FOR 3 NIGHTS