Amabilis
Piopolis, Estrie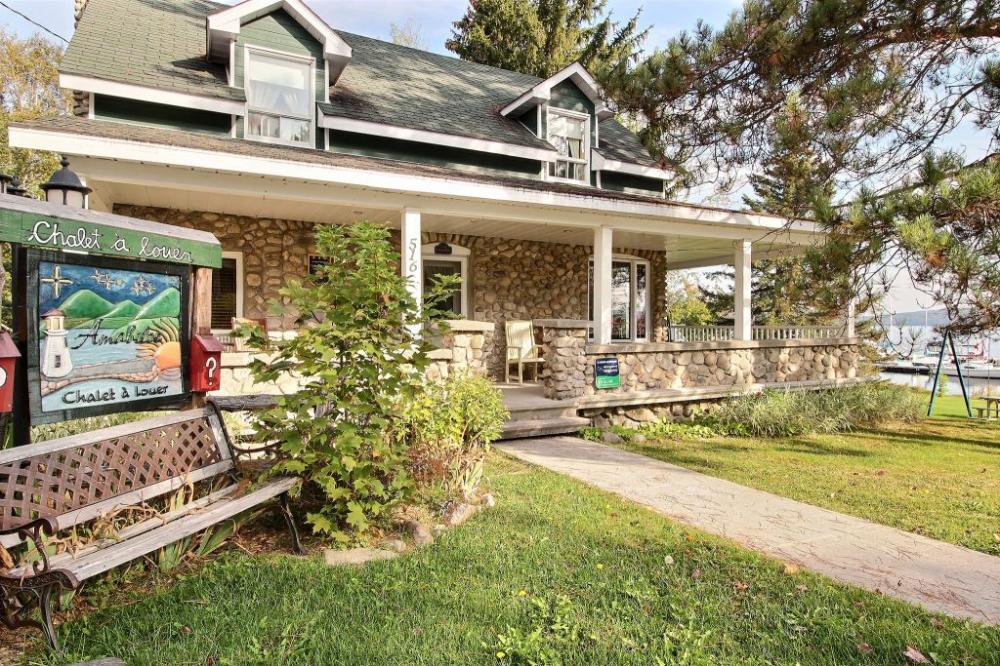 Tarifs
Rate : 379$* (minimum 2 nights)
* Rate before taxes, may vary according to length of stay and amount of people.
Amabilis
The sounds of loons at daybreak, the marina's docks gently clashing atop the waves, the subtle creaking of the swingset, the sound of a canoe gliding onto shore, the aroma of dinner grilling on the barbecue, the laughter of friends and family around the campfire…
Amabilis combines nature with the effervescence of a charming village for unforgettable moments between family and friends. Ideal for those who love water activities and stunning panoramas.
Door open to the lake
The cottage releases
The laughter of children Interior
Interior
You will find everything you need for a pleasant time indoors.
An enchanting fireplace is located in the rustic veranda; ideal after a day in the great outdoors!
You'll have two bathrooms and four bedrooms that can accommodate up to 8 people.
The kitchen is fully equipped.
Access to a comfortable living room with a view of the lake.
As well as a plasma television with a DVD player and a sound system that will allow you to fully relax. 
Take advantage of the attractions of the region, because Amabilis is located near the:
National Park of Mont-Mégantic (20 km).
the ZEC of Mont Gosford (25 km).
The town of Lac Megantic (15 km).
The Baies-des-Sables tourist complex (several family activities) (15 km).
and the Sugarloaf ski resort (75 km-USA).
In winter, you can easily practice:
Snowshoeing, cross-country skiing, skating and snowmobiling on the lake directly from the cottage.
Alpine skiing or snowboarding.
Dog sledding or carriage rides.
Observation of the sky and the stars at the Astrolab of Mont Megantic. Amabilis, the perfect place for your vacation!
Caractéristiques
Smoking

No

Connexion WIFI

Yes

Breakfast included

No

Check-in Hour

17:00

Departure

10:00

Inc person

8

Max person

8

Bedrooms

4

Bathrooms

2

Double bed

1

Queen bed

3

Sofa bed

1
Inclusions
Dishwasher
Washer / Dryer
Pedalo
Exterior fireplaec
Fire pit
Extorior table
Fire place
BBq
Salon
CD/DVD Player
Flat Screen TV
TV
TV
Kitchen
Refrigerator
Microwave
Coffee maker
Washroom
Shower
Bath
Hair dryer
Balcon
Patio Table & Chairs
Swing
Life jackets
2 x Kids & 2 x adults
NEARBY ACTIVITiES AND ATTRACTIONS
GET 10% OFF WHEN YOU BOOK FOR 3 NIGHTS